Holiday Club
Holiday care at NWPA
We currently offer two types of holiday provision at North Worcester.
1. Art Club
This runs for all half terms throughout the year as well as sporadic weeks in the Easter and Summer Holidays. It is run by enthusiastic staff from North Worcester and generally focusses on a particular artist or style and gives the children an extended opportunity to be creative, get messy and have a great time together. Please contact the school office for more information on this club. (See pictures below from recent Art Clubs)
2. The Bugs Group
What's involved - Football tournaments, Dance performances, Olympic MultiSports competition days where children will receive medals and trophies. For children aged 4 - 13 years. This sporting based club runs through all the holidays and is suitable for both children attending NWPA and from other schools.
Location – North Worcester Primary Academy WR3 7NS
Standard Times - 9am - 3pm
Extended Time - 8am - 9am and 3pm - 5pm (optional)
Standard day price - £17 per day
Extended price per hour - £28 per day
Sibling discounts - 10% off.
Free places
Free places are available for children whose parents qualify for free school meals. This funding is only available at the Easter, Summer and Christmas camps.
What Activities are offered?
The Bugs Group Holiday Camps are packed with activities ranging from Football, Dance, Acro, Fun Games & Multi-Sports like hockey, dodgeball, rounders, basketball and much more!
Helping enhance education
North Worcester Primary Academy & The Bugs Group Camps have partnered together to run Holiday Camps through all school holidays. 50% of the profits made go back into North Worcester Primary Academy, to help enhance the children's education.
Our Coaches
All coaches are enhanced DBS checked, paediatric first aid trained, have completed safeguarding training and are fully insured.
For more information & Book The Bugs website: https://www.thebugsgroup.com/active-camps/
Any questions please call 0121 777 7792 or email info@thebugsgroup.com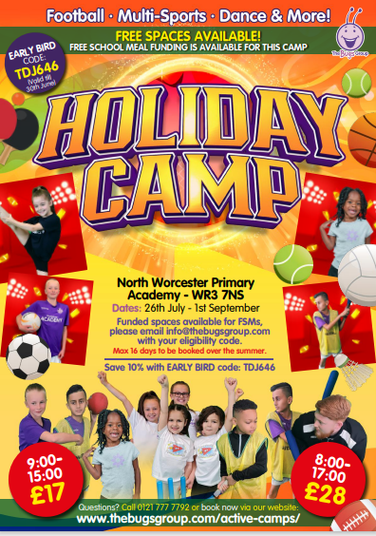 Some of the wonderful work made by our Art Club at North Worcester